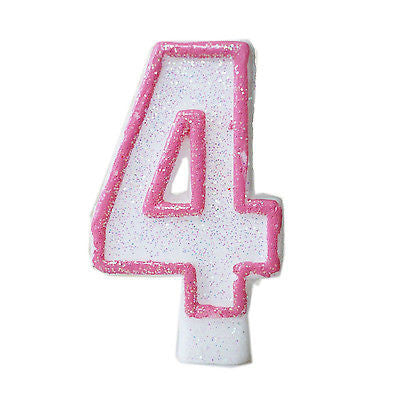 Pink Glitter Sprinkles 4 Number Candle White Premium Birthday Candle
---
---
---
Celebrate your special day with these beautiful, premium number candles!
Perfect for birthdays, anniversaries, weddings, baby showers, or any other life events that will make great memories! Bring that special glitter and shine to your cake and to your party!         
Approximately 3" height x 1.6" width x 0.4" thickness
Extra wax nub on the bottom of candle to insert into cake
Pearl and pink glitter on front face of candle for extra sparkle
Made of wax - perfect for all cakes!
NOTE: Candle is very delicate. While removing candle from packaging, do NOT push the candle out against the back. Cut around the candle, or peel off plastic casing carefully.
Number 4 candle is great for the 4th birthday, 40th birthday, anniversary, wedding.
---
Share this Product
---
---